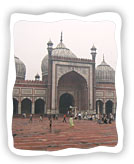 Detailed ItineraryDay 01 - Delhi
You will be met on arrival and transfer to the Hotel.
Day2 - Delhi
Full day sightseeing tour of Old and New Delhi.
Day3 - Delhi- Agra
Drive down to Agra via Sikandra. Afternoon sightseeing tour which includes Agra Fort and the world famous Taj Mahal.
Day4 - Agra - Jaipur
Drive to the pink city of Jaipur, enroute visit Fatehpur Sikri. Afternoon at leisure.
Day5 - Jaipur
Morning visit to Amber Fort. Also enjoy city tour which includes the City Palace, Observatory and Palace of Winds.
Day6 - Jaipur - Mandawa
Morning drive and see the elaborately painted houses and fortress of Mandawa. Afternoon sightseeing tour of Mandawa.
Day7 - Mandawa - Bikaner
Drive to Bikaner, another outpost of the once great Camel Caravan routes to the West. Afternoon visit to fairy-tale Junagarh Fort.
Day8 - Bikaner - Jaisalmer
Drive to the 800 years old desert city of Jaisalmer. Afternoon at leisure.
Day9 - Jaisalmer
Morning city tour this facinating old trading town. Enjoy a desert camel ride at sunset.
Day10 - Jaisalmer - Jodhpur
Morning drive to Jodhpur. Afternoon at leisure.
Day11 - Jodhpur - Delhi
Morning sightseeing of Meherengarh Fort and the old Bazaar. Evening travel by train to Delhi.
Day12 - Delhi
Arrive Delhi Railway Station. Transfer to the Hotel. Rest to theat leisure.
Day13 - Delhi - Goa
Today you will be transferred to airport to catch flight to Goa, On arrival transfer to hotel. Rest of the day free to relax to beach. In the evening enjoy Goan Carnival Theme : Join a traditional carnival, which is a part of Goa's rich Portuguese heritage. Where revelry, song and dance, great food and good wine come together beautifully. Discover the joy of Goan cuisine at a delightful buffet dinner. Overnight to be spent at hotel.
Day14 - Goa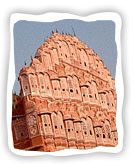 Today you will explore the North Goa & South Goa. In the evening we have for you Fishing village : Fishing villages are part of Goa's rich cultural heritage. Local Goan fishing village is created on the grounds of the hotel, forming a perfect backdrop for a charming evening in a very rustic atmosphere. Artisans display their skills whilst the village dancers whirl to the music of a local band. Overnight at hotel.
Day15 - Goa
This day you are free to relax on Beach. In the evening, enjoy Sea food Bar-be-cue on the beach – Dine under a starlit sky on succulent lobsters, jumbo prawns and other local seafood delicacies which form part of a delightful bar-be-cue set up on a lovely stretch of the Goan beach. Guests may also cook their own food on skewers over a camp fire. A local musician captures the magic of the moment on his guitar strings. Overnight at hotel.
Day16 - Goa - Cochin
On arrival in "Queen of the Arabian Sea", you will be met by our representative and transferred to hotel. In the afternoon enjoy city tour covering Jewish Synagogue, St. Francis church, Dutch Palace, Chinese Fishing Nets. In the evening enjoy Moonlight Boat cruise on the backwaters of Kerala : Guests are ferried aboard a spacious, specially decorated , boat for a delightful moonlight cruise on the backwaters of Cochin. South Indian culinary surprises are served. A thrilling fireworks display on an islands off the backwaters of Cochin concludes a wonderful evening. Overnight at hotel.
Day17 - Cochin
Kerala Village Tour : Ride through Kerala's heartland in wooden 'vallams' (boats) that glide effortlessly through the green waters. Leave the crowded cities behind as you move through Kerala's lush beauty and serenity and enjoy a packed lunch on board. Visit small islands along the way to glimpse traditional life in villages. Traditional fish farms, the famed Chinese nets, coconut groves and paddy fields are just a few of sights you will see. Bird watchers will be entranced by the close look at Kingfishers, Cormorants, Woodpeckers and Kites. Overnight at hotel.
Day18 - Cochin – Delhi
Transfer to airport to connect flight to Mumbai, On arrival we will transfer you to hotel where we will be holding a few rooms for wash & change. In the evening come with us for Mumbai Sidewalk Yatra, Go gallivanating into the mean streets of Mumbai. Try out every single offering the sidewalk promises. Gorge on the Bhel, Vada Pav, Lucknowi kababas, North India chaats, the "anna's amalgamation of all Indian cultures, Swere with the crowds, buy bargains & boogie on the sidewalk. Try out the magazine stall, curio shops, and the "phoren" goods store while taking a swig of our barman's delightful concoctions. All this with out a speck of dirt on your dishes. After that have your dinner and be transferred to airport to connect international flight.