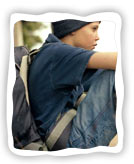 For the adventurous traveler, few destinations are more magnetic than the Himalayas. India's towering peaks and glaciers represent the ultimate experience in mountaineering, and for many a journey into the Himalayas is really more like a pilgrimage. Three major regions of India penetrate the Himalayas, all of them exceptionally beautiful. In the far northwest there is the province of Jammu and Kashmir, and a gorgeous region known as Ladakh; in the northeast are the provinces of Sikkim and Arunachal Pradesh. More than destinations for just mountain climbers, these regions are culturally rich, often dotted with temples and monasteries.,
Apart from The mountains, there are other options which include rafting,overland journeys,snow camping
biking and motorcycling.

For detailed information and tour packages visit our adventure site
www.bikescape.ws