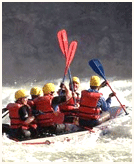 Here is a river after the white water enthusiast's heart, it is challenging and exciting, fast and furious. Some of the rapids here are likely to quench your thirst in more ways than one. The action starts are GIO's Camp Har ki dun at Mori, a quiet unexplored hamlet where time has little meaning except watching the beautiful scenery unfold and indulge in rafting to your hearts content. For the uninitiated the River Tons is the largest tributary of the Yamuna and drains the famous Har ki dun Valley. The rafting action is akin to being on one continious roller coaster, twisting and turning all the way!
You can have trips from 3 Days onwards, but don't be surprised if you want to settle down here.
Detailed ItineraryDay 1:
Arrive in Camp Har-ki-Dun for breakfast. Relax in the camp during the first half of the Day and get ready for the action to follow. Post lunch, a briefing on Rafting techniques followed by a short rafting run. Towards the evening, visit the Mahasu Devta temple in Hanol. In the night, bonfire and dinner by the riverside.
Day 2:
Post breakfast, set out on a Day trek with packed lunch. During the trek, you would be passing through forest and would also take a refreshing dip in a natural swimming pool in the forest. Return to the camp in the evening. In the night, bonfire and dinner by the riverside.
Day 3:
Post breakfast, rock climbing and rappelling under the watchful eyes of our instructors followed by a rafting run in the afternoon. In the evening, relax in the camp with beach volleyball, swimming, etc. In the night, bonfire and dinner by the riverside.
Day 4:
Post breakfast, a longer rafting stretch to put to test the paddling skills learnt the previous time. Return to the camp for lunch. In the evening, depart for Delhi. (Arrive in Delhi early morning on Day 5)