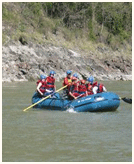 Invoke the lord's blessings with a 'jay bam bhole' and Heidi ho! Off you go on this exciting 135 Km river journey, a adventure tour that you have never had and never will. Imagine yourself owning a private waterway, you the rest of the crew and the sublime Ganges. A week of frolicking fun and nature at its very best; riding the waves, traversing through gorges and charming villages, camping on beaches of silver sand, sighting elusive wildlife and much more..
Detailed ItineraryDay 1:
Arrival at Camp Rapid Descent, Shivpuri. Acquaint yourself with the river and raft a small stretch toDay. Night at Camp.
Day 2:
Depart for RudrDayayag (140 km) early in the morning. The raft will be put into the Alaknanda here. Raft down toDay till Srinagar (30 km). Camp on one of the sandy beaches for the night. The major rapids toDay are the Confluence & Dharidevi. ToDay will be a Class II & III section of the river..
Day 3:
ToDay's rafting stretch will be from Srinagar to Devprayag (30 km). ToDay will also be a Class II / III rafting stretch
Day 4:
From Devprayag the trip will proceed to Kaudiyala (35 km). The major rapid toDay will be the Daniel's dip just before we stop for the evening. The rapids toDay will also be in the Class II / III range.
Day 5:
Start after an early breakfast and raft till the camp for lunch The rafting stretch toDay will be 35 km. The major rapids that will be encountered toDay are Wall, Crossfire, Three blind mice. After a good lunch at the camp continue to the finish at Rishikesh. The rapids that one would encounter in this stretch are Roller coaster, Golf course, Double trouble, return to centre. The Wall is a Class IV rapid; the rest of the stretch will be from Class II - III+. After completing the trip you could leave directly from there for Delhi or return to Camp Rapid Descent for the night.