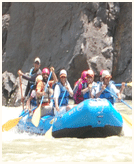 Shivpuri, over the years, has come to be known as India's soft adventure capital. This picturesque village surrounded by thick forest, is on the banks of the Ganges and has a number of white sandy beaches. .
Our Camp is located on one of these sandy beaches. It forms an ideal base for a host of adventure activities like white water rafting, trekking, rock climbing, rappelling, etc. Also, a serene ambience and salubrious weather makes it a perfect for pursuing spiritual interests. For those who are averse to any physical activity, the clean unpolluted air and the crystal clear waters of the Ganges only add to creating an atmosphere for relaxation. Swim in the crystal clear green waters, make small forays on your own in a kayak or loosen up on the soft sands with a game of beach volleyball. As the night sets in, get a feel of true hospitality. A crackling fire under the canopy of stars, folk musicians to bring you the sounds of the mountains and meals that promise to be a gastronomic delight.
Camp Facilities.
Comfortable all-weather Swiss Alpine tents
Neat and clean sanitation facilities
24-hr kitchen to serve multi-cuisine meals
Detailed Itinerary
Day 1:
Arrive at Camp Rapid Descent at Shivpuri by 1300 hrs. After lunch, drive to Marine Drive (10 kms). Explore the beautiful surroundings and attend a briefing on rafting techniques. The group would then raft down from Marine Drive to the camp through exciting rapids like Three Blind Mice, Black Money and Crossfire. Also one would get a chance to body surf though the Body Surfing rapid. Before the start of this stretch the group will try their hand at Bridge Slithering.
This stretch is also a treat for bird lovers with one sighting an amazing variety of birds in various sizes, shapes, hues and colours. In the night, bonfire and dinner by the riverside.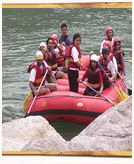 Day 2:
After breakfast, set out on rafts for Rishikesh. The Camp - Rishikesh stretch is 16 kms and will be negotiated at a leisurely pace. During this run, one would raft through rapids like Return to the Sender, Roller Coaster, Golf Course, Clubhouse, etc. One would also get a chance to try their hand at the exciting sport of Cliff Jumping and Body Surfing.
Complete the stretch to Rishikesh and return to the camp. In the camp one can swim in the green waters or indulge in a game of beach volleyball. In the night, bonfire and dinner by the riverside.
Day 3:
After breakfast, professionals would brief the group on ROCK CLIMBING & BRIDGE RAPPELLING techniques. They would then assist the group to attempt the sport themselves. Lunch at the camp. Post lunch depart for your onward destination.