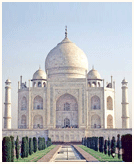 Normally one wants to do business with someone they know, so Ideas Cell Tours, through this site, makes efforts to know each other and try to build a close relationship with you. Even if you end up not visiting India immediately and choose some other destination , we trust that you will find the information on this site accurate, helpful and relevant to plan visit of India any other time. Whether you visit India, as a normal tourist on a planned package tour, for business, for conference or for any other purpose, we will always be happy to assist you in your planning. In addition to the tours and travel information, we'd like to tell you a bit about ourselves and what we do. We hope you enjoy the website. Please let us know if we are falling short in any particular area. All suggestions are welcome. Its your inputs that will guide us towards making traveling in India more interesting , informative and interactive.
Ideas Cell Tours which started in 1991 has been providing ground handling arrangements in India and Nepal for almost a decade. Mr Basu, Founder of this Company has been in this profession since 1975 and worked with leading tour operators of this country and thus have gained experience to set up and run this Company. Recognized by Ministry of Tourism , Govt. of India as an Inbound Tour operator. ICT is a member of TAAI (Travel Agents Association of India) and IATO (Indian Association of Tour Operators) International Travel Associations like ASTA (American Socity of Travel Agents) and PATA (Pacific Asia Travel Association) and COOTAL (Confideracion De Organizaciones Turisticas De La Anerica Latina) and actively takes part in their deliberations to keep abreast with latest developments in the travel trade worldwide.
Ideas Cell Tours operates through its Head Office in New Delhi and a network of 28 Associates spread throughout India/Nepal. Our attempt at ICT especially through this site, as also otherwise, to offer maximum Information which helps to plan an enjoyable, affordable and relaxed visit of India.
Ideas Cell Tours
K KBasu
Address :
A - 13 Shubham Apts 37, Patparganj
Delhi - 110 092 ( India )
Phone :
91-11-22723592
Fax :
91-11-22724339
Email :
info@ideas4india.com