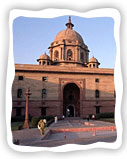 Detailed ItineraryDay 01 : Delhi
Arrive Delhi by international flight
Assistance on arrival and transfer to the Hotel. Check-in time is 12.00 Noon.
Day 02 : Delhi
India's capital is an exciting, busy, sometimes chaotic city and one of the most interesting. With historical sites from different eras, museums and galleries, shops and endless bazaars, there is more to see and do than we can possibly fit in during our short time here. So for those arriving early there is an opportunity to make more discoveries. The ruins of Qutab Minar and Purana Qila, the crafts museum and Birla House (the site of Gandhi's assassination) are all recommended. We start day 2 with a visit to Delhi's oldest mosque the Jama Masjid, built by Shah Jahan of the Taj Mahal fame. We step into old Delhi with a walk in the bazaars and spice markets, immersing ourselves in the noise and smells of the crowded narrow streets and alleys. The afternoon is free for you to visit Rajpath and Birla House.
Day 03 : Agra
One of India's faster trains takes us on our early morning ride to the Mughal city of Agra (approx. 2.5 hours). Arriving in the morning, we head straight for one of the world's most instantly recognisable monuments - the majestic Taj Mahal. Built by Emperor Shah Jahan as a memorial to his wife Mumtaz, this 'teardrop on the face of eternity' lives up to all expectations. We visit Agra's Red Fort and there is an opportunity to see how handmade carpets are produced.
Day 04 : Fatehpur Sikri / Bharatpur
The deserted Mughal kingdom of Fatehpur Sikri is an intriguing place ( approx.1 hour). The 16th Century palaces and pavilions of this fortified ghost city are perfectly preserved, while an impressive Victory Gate leads to the tomb of a Muslim saint. It is normally crowded with pilgrims. Originally used by the Maharajah of Bharatpur and his guests for duck shooting, the Keoladeo Bird Sanctuary now has more than 400 species of local and migratory birds (approx. 1 hour). Bicycle rickshaws ridden by local ornithologists take us for an evening ride into the peace and quiet of the sanctuary. There are further opportunities to visit the sanctuary before our departure to Madhogarh.
Day 05: Madhogarh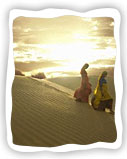 Leaving Bharatpur we travel the major highway. Transferring to jeep, we venture deeper into rural Rajasthan along small dusty country roads to the village of Madhogarh (1 hour). On a ridge above the village stands the regal fort still occupied by the royal descendants of the local Maharajah. We take our dinner out under the stars on the fort roof (weather permitting) and to accompany our meal, we have local musicians playing traditional folk music. A guided walk in the village takes us to the local cobbler (get a pair of Rajasthani shoes here), dhurrie or rug maker and is a fascinating insight into a world off the normal tourist trail.
Days 06-07: Jaipur
This friendly and busy town with its palaces and bazaars full of jewellery, textiles and folk based arts is a firm favourite with travellers. We visit India's most photographed building after the Taj Mahal, the Hawa Mahal or 'Palace of the Winds' and travel out to the old capital of Amber, where we explore the hill top palace complex.
Day 08 : Ranthambhore National Park
We head south to Ranthambhore, one of the original Project Tiger Parks. We take an evening drive into the park to see deer, birds and monkeys. If we are lucky enough, we may even see one of the resident Bengal tigers although the park, with its lakes, crags and ruined pavillions, is well worth a visit in itself. Please note that in September the park is closed. As an alternative, trips operating during this time will spend an additional night at Castle Bijaipur in Bassi to visit the surrounding countryside and tribal villages.
Days 09-10: Bundi
We journey through villages and farmlands as we cross the more remote tribal areas of Eastern Rajasthan to Bundi (approx. 4 hours). A decaying palace sprawls across the hillside above this captivating town that time seems to have forgotten. There is plenty of time to explore the palace and its famous murals and experience local street life down in the bazaars.
Day 11: Bassi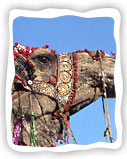 It's a slow but interesting journey as we join tribal people and local villagers for a 3 hr local train ride (approx.). Our base for exploring the area is the fabulous Castle Bijaipur, a fortified mansion still run by the local landlord, Rao Narendra Singh. We take to jeeps to explore the local villages and, in the morning before heading to Pushkar, we drive past the massive hill top fortress that dominates the town of Chittorgarh.
Days 12-14: Pushkar
A four-hour ride takes us to Ajmer then over the short ride over Snake Mountain to Pushkar (approx. 40 minutes). With India's only Brahma temple and a holy lake, Pushkar is a major destination for pilgrims and Saddhus from all over India. The atmosphere is friendly and mellow, there is hardly any traffic and the town is small enough to walk around. We spend time exploring the many bazaars - some great shopping to be done here - walk around the lake with its ghats and temples, and there is an optional early morning trek to the hilltop Savitri temple for magical views. A highlight of our visit is a camel ride out into the desert for a night under the stars - pure magic. For those who don't want to ride a camel there is a camel cart option. We return back to delhi with the Shatabdhi express.
Day 15: Delhi
transfer to international Airport for onward flight for back home.