The Golden-Triangle tour is the most incomparable tour that a tourist can take in India. More of all you get plenty of options to enjoy the best of Rajasthan, a close encounter with the Royal Bengal Tigers and the magnificent TAJ.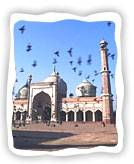 Detailed ItineraryDay 01 : Delhi
Fly from your country to New Delhi, you will be greeted & assisted upon arrival. Transfer to Hotel for overnight stay.
Day 02 : New & Old Delhi
Breakfast at Hotel and then leave for full day sightseeing of Old and New Delhi visiting Jamia Masjid, enjoy rikshaw ride in narrow alleys of old Delhi through Kinari Bazaar and 400 years old Chandni Chowk, Red Fort, Crematory of Mahatma Gandhi, Birla Temple, Parliament House, Presidential House, India Gate, Government buildings & Qutab Minar. Welcome dinner will be organized at Village Restaurant Bistroo with Indian Cultural dances. Return Hotel for overnight stay.
Day 03 : Delhi - Sariska ( 185 Km, 04 hours )
Morning leave for Sariska, arrive & check in at 19th century Hotel Sariska Palace, that was once the hunting resort of Maharaja of Alwar. Afternoon visit Sariska Tiger Reserve by Jeep Safari, where you are most likely to see the majestic tiger. Sariska forests are typical of the Aravallis with their undulating terrain of low hills where you can watch different varieties of animals such as tiger, panther, leopard, spotted deer, barking deer, wild boar, and Antelopes etc. Return to Hotel for overnight stay.
Day 04 : Sariska - Jaipur ( 120 Km, 02.1/2 hours )
After breakfast drive to Jaipur. This historic city was founded by Maharaja Swai Jai Singh in 1727 AD. Jaipur, the capital of the modern state of Rajasthan and world famous as the Pink City, is a major centre of handicrafts and wide gamut of other architectural buildings. Arrive and check in at Hotel Clarks Amer / similar, afternoon visit busy markets of old Pink City to watch daily life. There is a timeless appeal to jaipur's colourful bazaars where you can shop for rajasthani handlooms and trinkets. Return to Hotel for overnight stay.
Day 05 : Jaipur
Breakfast, leave Hotel to explore full day sightseeing of Jaipur visiting Hawa Mahal (palace of winds) where from royal ladies were watching daily processions and life. Afterwards visit Amer Fort by elephant ride , that gives you the experience and impression of how Maharajas & royal family members were using the services of elephants. After lunch visit City Palace Museum, Astrological Observatory and local busy markets. Return to Hotel for overnight stay..
Day 06 : Jaipur - FatehpurSikri - Agra ( 235 Km, 06 hours )
Morning leave for Agra enroute one of the most important place of Mughal era founded by Akbar in 1569 AD. Fatehpur Sikri, a unique blend of Mughal architectural traditions that has a specific purpose, aura and royal ambience that is reflected in the unmatched regal legacies that includes Diwan-I-Aam (Hall of Public Audience); The Diwan-I-Khas (Hall of Private Audience) and the Panch Mahal. Continue your drive to Agra, arrive and check in at Hotel Clarks Shiraz. After change and wash visit one of the wonders of the world, Taj Mahal ( monument of love ), founded by 5th great Mughal Emperor Shahi Jahan in the memory of his beloved queen Mumtaz. The Taj is India's greatest symbol of love on this planet. The monument is incomparable to any other monument in the world. Explore Taj Mahal with us and remember the vibrating images of Taj Mahal - the symbol of love and romance. Return to Hotel for overnight stay.
Day 07 : Agra
After breakfast visit Agra Fort, was built by three emperors, Akbar & Jahangir in red sand stone & Shahi Jahan in white marble. The Fort is 2.5 Km long and during Mughal rule one third of the Fort was occupied by the army. When British ruled India, they repeated same tradition and now traditionally Indian army has occupied the same. Afterwards visit Itma-ud-ullha the baby Taj. Return to Hotel for overnight stay.
Day 08 : Agra - Gwalior - Delhi ( Shatabadi Express )
Morning transfer to Agra railway station to board Shatabadi Express for Gwalior, arrive and full day sightseeing will be organized visiting 15th century Gwalior Fort, few old temples within the Fort, rock cut Buddhist & Jain statues. Afterwards visit well preserved Gwalior Palace. The specialty of the Palace is Silver train which moves around to serve drinks, if someone will pick a bottle, the train will stop unless the bottle will not be kept back. Late afternoon transfer to Gwalior railway station to board same Shatabadi express for New Delhi. Arrive & transfer to International airport to board flight back to your country.