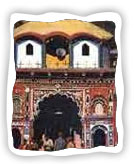 Kedarnath Introduction
The holy city of Kedarnath is situated 3,581meters above sea level, on the banks of the river Mandakini, amidst the spectacular mountain ranges of the Garhwal Himalayas. The Kedarnath shrine is dedicated to Lord Shiva, the destroyer. According to legend, this temple was built by the Pandavas to redeem themselves of the sin of killing their brothers during the famous Mahabharata war.
In the Kedarnath temple, Lord Shiva is represented in the form of the jyotirlinga (the phallus of light). The interiors are decorated with exquisitely carved images. At the entrance of the temple is a statue of Nandi, the celestial bull. As the temple is located at a great height in the Himalayas, it is not possible to gain entrance into the temple throughout winter. The landscape at Kedarnath is absolutely breathtaking.
TOURIST ATTRACTIONS - KEDARNATHKedarnath Temple
An imposing sight, standing in the middle of a wide plateau surrounded by lofty snow covered peaks. The present temple, bulk in 8th century A.D. by Adi Shankaracharya, Stands adjacent to the site of an earlier temple built by the Pandavas. The inner walls of the assembly hall are decorated with figures of various deities and scenes from mythology. Outside the temple door a large statue of the Nandi Bull stands as guard.
Dedicated to Lord Shiva, the exquisitely arhitectured Kedarnath temple considered to be more than 1000 years old. Built of extremely large, heavy and evenly cut grey slabs of stones, it evokes wonder as to how these heavy slabs had been handled in the earlier days. The temple has a "Garbha Griha" for worship and a Mandap, apt for assemblies of pilgrims and visitors. A conical rock formation inside the temple is worshipped as Lord Shiva in his Sadashiva form.
Shankaracharya Samadhi
The Samadhi of Adi Guru Shankaracharya is located just behind the Kedarnath temple. It is said that after establishing four sacred Dhams in India, he went into his samadhi at an early age of 32 years.