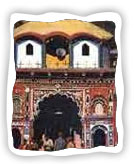 Gangotri Introduction
This sacred shrine, situated at an altitude of 3,200 mt is the source of the river Bhagirathi. It is surrounded by the mountain peaks of Shivling, Satopanth and Bhagirathi sisters. Accessible by a motorable road, it is one of the most pious Hindu pilgrimages.
TOURIST ATTRACTIONS Temple Of Gangotri
As the legend goes, Raja Bhagirath used to worship Lord Shiva at the sacred stone near which the temple is located. It is believed that goddess Ganga first descended to earth from Heaven, at this stone. Amar Singh Thapa, the Gorkha Commander of Garhwal, in the 18th century A.D. constructed this temple. It is also believed that the Pandavas, came here to perform the great 'Deva Yagna' to atone the death of their kinsmen in the battle of Mahabharata.
Submerged Shivling
Submerged in the river, this natural rock Shivling is the place where, according to mythology, Lord Shiva sat when he received the Ganga in his matted locks. It is visible in winter months when water level decreases.
The best time to visit Gangotri is from May to September. By November, when Gangotri is snowbound, the deity is moved downstream to Mukhba. Despite the severe cold, however, several sadhus (holy men) remain at Gangotri year round.