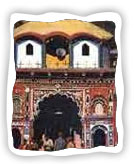 Char Dham Introduction
Char Dham is a term coined for the four most revered Hindu pilgrimage destinations of
Yamunotri, Gangotri, Kedarnath and Badrinath
.
According to the Puranas and various Hindu scriptures, the Char Dham Yatra is of very high religious significance. Pilgrims from all around the world brave the severe conditions of landscape and weather to visit the shrines and have a holy darshan of the revered deities.
Badrinath
Badrinath Temple is the abode of Lord Vishnu. It is situated at an altitude of 3130 m at the banks of Alaknanda. In the backdrop, is the Neelkanth mountain peak situated between the twin peaks of Nar and Narayan. The name is derived from wild berries called Badri. Adi Shankarcharya established the idol of Vishnu in the temple. Near the temple is a hot water sulphur spring, Tapt Kund.
Kedarnath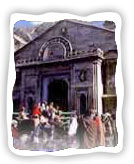 The temple of Kedarnath dedicated to Lord Shiva is revered and visited by many pilgrims every year. The temple is situated at an altitude of 3580 m amidst the background of snow covered mountain peaks and greenery. The temple is built of large, heavy and evenly cut grey slabs of stones and is considered more than 1000 years old. The temple has a garbha griha where a conical rock formation is situated and a Mandapam for seating of pilgrims and visitors. A large statue of the Nandi Bull is situated outside the temple door. The nearest bus stop is Gaurikund and pilgrims have to trek 14 kms to reach the temple.
Gangotri
Gangotri is situated in Uttarakhand at the height of 3,048 meters in the magnificent Garhwal Himalayas. The 6 meters high Gangotri shrine is dressed in white granite stone and is situated on the right bank of the river, Bhagirathi. The original temple was constructed by the Gorkha General Amar Singh Thapa. Every year people from all around the world visit this shrine. A number of ashrams and dharamshalas are located on the other side of the river. It is believed that Raja Bhagirath used to worship Shiva on a slab of rock "Bhagirath Shila" situated near the temple. Submerged in the river there is a natural Shivling where, according to mythology, Lord Shiva sat when he received the Goddess Ganga in his matted locks. A days trek takes one to Gaumukh, the source of the mighty Ganges.
Yamunotri
Yamunotri Temple lies in the western region of Garhwal Himalayas. It is situated at a height of 3235 m. Goddess Yamuna, the river goddess is worshipped here and has special significance in Hindu scriptures. The idol is made of black marble. The river Yamuna emerges from Yamunotri glacier which is at a height of 4420 m near the Kalind mountain. This was the home of Sage Asit. The temple was constructed by Maharaja Pratap Shah of Tehri Garhwal. A hot sulphur spring pond is situated at Yamunotri close to the temple.Nearby Places of interest include Surya Kund, Divya Shila, Sayanachatti, Janakichatti and Hanuman Chatti.