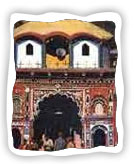 Badrinath Introduction
The abode of Lord Vishnu, Badrinath, is situated in the Himalayas (Uttarakhand) at the height of approximately 3,124 meters above sea level. It is on the left bank of the river, Alaknanda. Meandering rivers and the mountain range add to the beauty of this Holy Land. At one time the spot was covered with wild berries ("badris") and was famous as the "Badri Van" (the garden of wild berries).. Built by the Garwal kings, the Badrinath shrine dates back to more than two centuries.
The temple has a black stone idol that depicts Lord Vishnu - the preserver - in a meditative stance with both hands on his lap. Fed by the Badrinath glaciers and the holy Ganges, the sacred river Alaknanda flows by the temple. There is a hot water spring (Tapt Kund) near the temple. Rich in sulphur, a dip in Tapt Kund is considered holy and refreshing for body and soul and is said cure numerous ailments.
TOURIST ATTRACTIONS
The temple has been renovated several times due to earlier damages by avalanches and looks modem now with a colourful "Singh Dwara" or the main entrance gate. The temple has three parts - Garbha Griha (the sanctum sanctorum), Darshan Mandap (for pujas) and Shobha Mandap (for devotees to assemble).
It is believed that the image of Badrinath had been thrown into the Alaknanda river during the time of the Buddhist era and later retrieved and reinstalled by Shankaracharya during the following Hindu revival.
There are 15 idols in the temple complex. Finely sculpted in black stone, the Badrinath (Vishnu) image is a metre high. Other images include those of Laxmi (Vishnu's consort), Garurh (Vishnu's mount), Shiva, Parvati, Ganesh etc.
Panch Dharas
(a) Prahalad Dhara (b) Kurma Dhara (c) Urbasi Dhara (d) Bhrigu Dhara (e) Indra Dhara.
Panch Shilas
(a) Narad Shila (b) Varaha Shila (c) Garurh Shila (d) Markandeya Shila (e) Narsingh Shila.
Tapt Kund
Natural thermal springs on the bank of the river Alaknanda, where it is customary to bathe before entering the Badrinath temple.
Narad Kund
A recess in the river, near Tapt Kund, forming a pool from where the Badrinath idol was recovered.
Brahma Kapal
A flat platform on the bank of river Alaknanda. Hindus perform propitiating rites for their deceased ancestors.