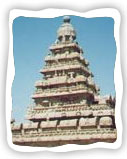 Pondicerry Situated on the Coromandel coast in an enclave in Tamil Nadu's South Arcot district, Pondicherry is 162 kms. south of Madras. It is the capital of the Union Territory of the same name and has three other enclaves including Karaikal in Tamil Nadu, Yanam in Andra Pradesh and Mahe in Kerala.
Pondicherry has a long history dating back 2000 years when it was an important Roman trading post. The region was at various periods ruled by the Pallavas and Cholas. In the early 16th century, when it was known as Pulichery or Poocheri and under the rule of the Nayaks of Gingee, the Danes set up a European trading post at his invitation. The Nayak was at times
unhappy with the Portuguese who were the first Europeans in Pondy. But it is the French connection that made Pondicherry famous. Francois Martin, a Frenchman, established the modern city of Pondicherry between 1673 and 1680 when most of the trade with France was through this port. The French established their supremacy in this area by waging several battles against Dutch, the English and the Caranatic Nawabs. Some of the famous Frenchmen who ruled from Pondicherry were Dupleix, De Sufferin, De Lally and Dumas. Pondicherry still remains something of its French flavour in its street names, policemen's kepis, spellings of names, the French accent which shows through in the pronunciation of English and Tamil words, a mixture of French words in ordinary conversation, and research institutions and monuments which are named after and dedicated to French heroes.
This quaint old French town in India is also the place where Sri Aurobindo, a well known philosopher, patriot and savant established his Ashram, which today is an important landmark added to the itinerary of every tourist visiting Pondicherry.