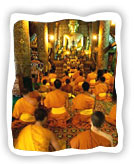 Explore the famous Buddhist temples in India while exploring the places that were once the strongholds of Buddhism. We offer you a comprehensive Buddhist pilgrimage tours, which is sure to match all your preferences and requirements.
The four famous places of Buddhist Pilgrimage are Lumbini, Bodh Gaya, Sarnath and Kushinagar which are associated with the life and Teachings of the Lord Buddha.
The Places where Lord Buddha spent seven weeks are now seven sacred shriners. And although the divine Doctrine of the Buddha no longer flourishes in the land of its birth, Bodhgaya continues to be the most important Buddhist centre of pilgrimage in the world.